How to use YS3010 to measure egg yolk color difference
Some customers want to measure the egg yolk color to check the quality of egg.
But how to measure it? Because it is Opaque liquid.
First we need to use a small tool to take the egg yolk from the egg white.
Then put the egg yolk into a small glass.
All are ready to measure. We can put it above the aperture of YS3010 spectrophotometer and use the instrument test button to measure or use the PC software to measure.
Here are the test images.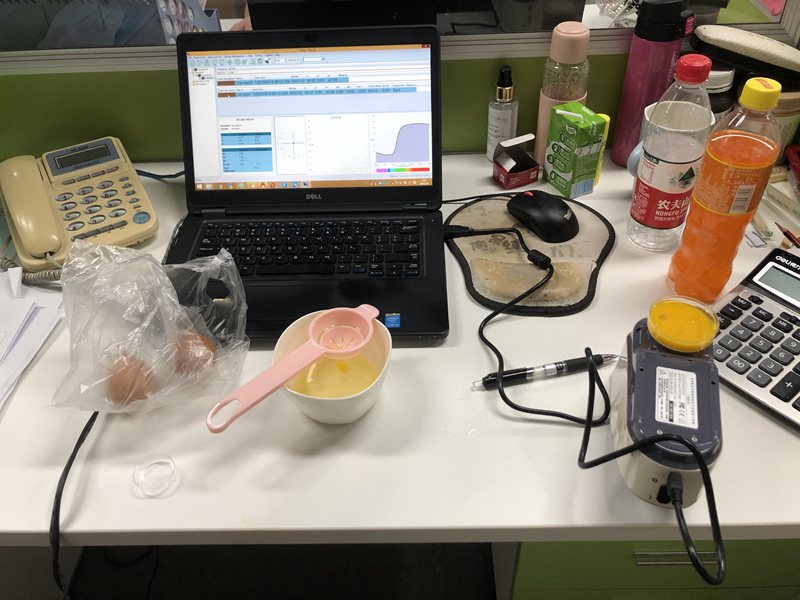 YS3010 is with 8mm aperture, but for this egg yolk color measurement, 8mm and 4mm aperture all are ok. So model YS3020 and YS3060 are all ok to measure egg yolk.
Here it is YS3010 specification.
Model

YS3010

Illumination/observation system

Reflect: di:8°, de:8°(diffused illumination, 8-degree viewing angle)

Integrating sphere Size

Φ48mm

Light Source

Combined LED Light, UV Light

Sensor

256 Image Element Double Array CMOS Image Sensor

Wavelength range

400~700nm

Wavelength pitch

10nm

Reflectance range

0~200%

Measuring Aperture

MAV: 10mm/8mm

Color Space

CIE Lab, XYZ, Yxy, LCh, CIE LUV, Hunter LAB

Color difference Formula

ΔE*ab, ΔE*uv, ΔE*94, ΔE*cmc(2:1), ΔE*cmc(1:1), ΔE*00v, ΔE(Hunter)

Other Chromaticity Data

WI(ASTM E313, CIE/ISO, AATCC, Hunter),

YI(ASTM D1925, ASTM 313),TI(ASTM E313, CIE/ISO),

Metamerism Index MI, Staining Fastness, Color Fastness, Color Strength, Opacity

Observer

2°/10°

Illuminant

D65, A, C, D50, D55, D75, F1, F2, F3, F4, F5, F6, F7, F8, F9, F10, F11, F12

Display Data

Spectrogram/Values, Samples Chromaticity Values, Color Difference Values/Graph, PASS/FAIL Result, Color Offset

Measurement Time

1.5s

Repeatability

Spectral Reflectance: standard deviation within 0.1%(400~700nm: within 0.2%)
Colorimetric Value: Standard deviation within DeltaE*ab 0.04 (Measurement conditions: white calibration plate measured 30 times at 5 seconds intervals after white calibration was performed.)

Inter Instrument Agreement

Within DeltaE*ab 0.2 (Average for 12 BCRA Series II color tiles)

Dimension

L*W*H=184*77*105mm

Weight

600g

Battery

Li-ion battery. 5000 times within 8 hours.

Lamp Life

5 years, more than 1.6 million measurements

Display Screen

TFT 3.5inch, Capacitive Touch Screen

Interface

USB/RS-232

Data Memory

Standard 2000 Pcs, Sample 20000 Pcs

Operating Temperature

0~40℃(32~104°F)

Storage temperature

-20~50℃(-4~122°F)

Standard Accessory

Power Adapter, Built-In Li-ion Battery, User Guide, PC Software, White and Black Calibration Cavity, Dust Cover

Optional Accessory

Micro Printer, Powder Test Box

Notes

The specifications are subject to change without notice.